"impressively detailed, lucid and well-organized" ... "synthesizes vital wisdom"
Sharing our stories gives voice to the diversity of our experiences, hopes and fears and cultivates resilience to the inevitable challenges ahead.
As Cultivating Resilience's principle consultant, Laura gathers real-world stories of local, place-based innovations that reduce risk and cultivate business and community resilience to climate change and other 21st century challenges.   She writes in a variety of styles and has authored everything from blogs, articles in newsletters, newspapers and magazines, to technical guides and policy papers, peer-reviewed scientific papers and U.S. government reports.  Laura especially enjoys finding engaging stories at the intersection of agriculture, food and climate change.  Learn more about Laura here.
A Unique Collection of Adaptation Stories of American Producers
Her award-winning book, Resilient Agriculture: Cultivating Food Systems for a Changing Climate (New Society Publishers), blends climate science and resilience thinking to explore the adaptation stories of sustainable producers growing food across the U.S.  Laura gathered stories from agricultural producers because she wanted to bring the voice of American farmers, growers and ranchers into the public discourse on climate change.  She chose to focus on the experiences of long-time farmers, growers and ranchers using ecological agricultural practices because they depend on ecosystem services for production inputs and they are often not eligible for federal agricultural support programs.  Laura thought this group of award-winning producers just might be innovating a model of ecosystem-based agricultural resilience that could prove useful to agriculture in a changing climate.
At the time of its publication in June 2015, Resilient Agriculture was the first, and is still the only published work that interprets the real world experiences of American producers through the application of leading edge climate risk management and resilience science.   Resilient Agriculture was included in Food Tank's 15 Favorite Food Books of 2015 and it was nominated for the Southern Writers Award and the Renewable Natural Resources Foundation's Excellence in Journalism Award.  Resilient Agriculture is one of twelve books included on Yale Climate Connections,  "Climate Changing the Menu" bookshelf.
 Other Writing
Since the publication of Resilient Agriculture, Laura has been busy writing popular articles, invited chapters, peer-reviewed papers, opinion pieces and blog posts on climate vulnerability and resilience themes.  She contributed two invited papers to the American Food Resilience Project in 2016 and an invited chapter on twenty-first century agricultural education in World Watch's 2017 State of the World, EarthEd: Re-Thinking Education on a Changing Planet.  With Christina Tirado, Laura co-authored an invited chapter on climate change, sustainable diets and human health in the forthcoming book, Routledge Handbook of Food as a Commons, scheduled for release in early 2018.
Laura is currently working on 4 peer-reviewed papers reporting on the case study research she conducted for Resilient Agriculture, an article for the general public on the complexities of soil sequestration as a climate change mitigation strategy, and an article for activists that interprets the regenerative agriculture movement from a resilience perspective.  She has also begun work on her second book: a "how-to" book for nature-based businesses who want to reduce risks and cultivate resilience through the use of adaptive management strategies.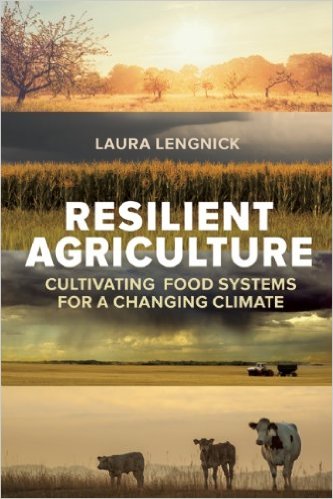 Praise for Resilient Agriculture
"A must read for anyone interested in the future of farming." Frederick Kirschenmann, Farmer, Philosopher, Author
"Lengnick has accomplished something significant here."  Chris Walters, Acres USA
"…accessible and compelling, a must read that builds hope for systemic changes for a more sustainable future." Cornelia Butler Flora, Iowa State University
"As we start to change the weather, resilience will become a watchword for farmers, as this fine book demonstrates" Bill McKibben, Author,  Activist,  Scholar 
"The focus on solutions rather than problems, building on the experience of farmers and ranchers is exactly what is needed." Tim Griffin, Agriculture, Food and Environment Program, Tufts University
"…offers us both the framework and the language to think about the future we all face together." David Oien, President & Founding Farmer Timeless Seeds, Inc.
Resilient Ag. in the Media
A Soil Scientist with a Plan for a More Resilient Agriculture, Civil Eats 
"How do we feed a growing world when the way that we eat fuels climate change? Joining the Colorado Ag News Network to discuss that in more detail is author, scientist, policy-maker and North Carolina farmer Laura Lengnick." Brian Allmer, The Barn 
"Dr. Laura Lengnick kicked off a day-long workshop that brought together centre staff and students working to understand how multifunctional landscapes contribute to community resilience." 
"…an impressively detailed, lucid and well-organized introduction to a topic that could easily fill several volumes" Chris Walters, EcoFarmingDaily
Researcher: Diversify Farm Crops By Region, Yale Climate Connections Radio 
Farmers Adapt to 'Too Much and Not Enough' Water, Yale Climate Connections Radio 
"…provocative early winter brain food. Give it a read before you begin farm planning for the next growing season so that it can nourish your decision making." Audrey Arner, MOSES
"Listening to their stories is like sitting around a campfire with two dozen Joel Salatins" Albert Bates, Resilience.Org
Interview with Food Sleuth Radio –  Part 1: The Challenges / Part 2: The Solutions
"…reveals how not every farmer lacks that adaptive capacity—there are those who have integrated ecological principles, innovative marketing and just plain creativity into their operations to make them about as resilient as possible." Brian Devore, Land Stewardship Project
"…far from a doom-and-gloom book. Nor is it a "Blame Industry/Government" tome. It is a very practical and constructive aid to successful sustainable farming" Pam Dowling, Sustainable Market Farming
"…her new book "Resilient Agriculture," looks beyond reductive and sometimes divisive labels like "local" and "organic" and instead begins exploring what a truly resilient food system might look like" Vanishing Fruits, Veggies: Could Climate Change What We Eat? Asheville Citizen Times
Resilient Farming Systems: How Local Foodsheds Can Brace for Climate Change