"impressively detailed, lucid and well-organized...synthesizes vital wisdom "
Sharing our stories gives voice to the diversity of our experiences, hopes and fears and cultivates resilience to the inevitable challenges ahead.
Laura enjoys sharing real-world stories of resilience to raise awareness and increase understanding of climate change and community resilience through writing for the general public, university students and teaching faculty, research scientists, community-advocates and policy-makers, as well as farming and food businesses in the U.S. and abroad.
Her award-winning book, Resilient Agriculture: Cultivating Food Systems for a Changing Climate (New Society Publishers), blends climate science and resilience thinking to explore the adaptation stories of sustainable producers growing food across the U.S.  Laura chose to focus on the experiences of long-time farmers, growers and ranchers using ecological agricultural practices because, compared to conventional producers, their production systems are more dependent on high soil quality and biodiversity to provide nutrients, suppress pests, and buffer weather variability and extremes.  She decided to base the book on interviews with producers because she wanted to bring the voice of American farmers, growers and ranchers into the public discourse on climate change.  Laura also wanted to understand how of some of America's best sustainable producers managed their assets to reduce climate risk and cultivate resilience.
At the time of its publication in June 2015, Resilient Agriculture was the first, and is still the only published work that interprets the real world experiences of American producers through the application of leading edge climate risk management and resilience science.   Resilient Agriculture was included in Food Tank's 15 Favorite Food Books of 2015 and it was nominated for the Southern Writers Award and the Renewable Natural Resources Foundation's Excellence in Journalism Award.  Yale Climate Connections included Resilient Agriculture in 12 books included on their "Climate Changing the Menu" bookshelf in 2016.
Soon after the publication of Resilient Agriculture, Dayna Reggero, award-winning producer and visual story-teller and creator of the Climate Listening Project, proposed producing a short video series featuring Resilient Agriculture producers to be titled Cultivating Resilience.  In the summer of 2015, they completed a set of videos featuring Southeast Region producers Ken Dawson, Tom Trantham, and Will Harris.  They started on the Great Plains region set in fall of 2015 with a video featuring Bob Quinn.  They are currently raising funds to complete the Great Plains series in 2017.
In collaboration with political associate Peyton Siler, Cultivating Resilience produced its first video, released in Fall 2016, designed to encourage everyone to vote for representatives who are willing to reach across the political divides to act together on climate change.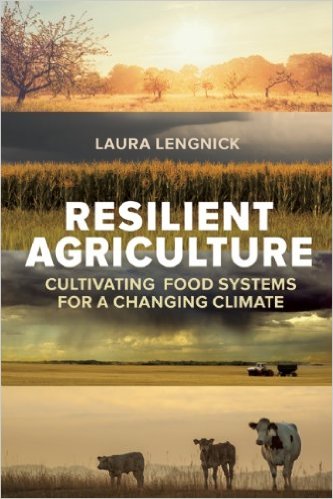 INNOVATION AND RESILIENCE
North Carolina vegetable grower Ken Dawson tells how good-natured competition sparks innovations that enhance climate resilience.
SUSTAINABILITY AND CLIMATE RESILIENCE
Southeastern farmers talk about changes in weather and how soil quality, biodiversity and high-value markets enhance the climate resilience of their farms.
FARMING TRADITIONS AND COMMUNITY RESILIENCE
Georgia livestock farmer Will Harris talks about industrialization and the community resilience benefits of pasture-based livestock production.
WE GROW FOOD NOT COMMODITIES
Montana grain farmer Bob Quinn tells how soil quality, the production of diverse food grains,and on-farm processing have helped him develop a successful farm business that supports the whole family despite more challenging weather in recent years.
BRIDGING THE DIVIDE FOR CLIMATE ACTION
Charlotte developer Richard Haake, Baptist Pastor Jim McCoy, and Republican activist Bob Inglis share their thoughts and feelings about taking action on climate change.
Since the publication of Resilient Agriculture, Laura has been busy writing popular articles, invited chapters, peer-reviewed papers, opinion pieces and blog posts on climate vulnerability and resilience themes.  In 2016, she contributed two invited papers to the American Food Resilience Project.  Laura contributed an invited chapter on 21st century agricultural education in World Watch's 2017 State of the World, EarthEd: Re-Thinking Education on a Changing Planet.  Laura has co-authored an invited chapter on climate change, sustainable diets and human health with Cristina Tirado in the forthcoming book, Routledge Handbook of Food as a Commons, scheduled for release in early 2018.
Laura is currently working on 4 peer-reviewed papers that report on the case study research she conducted for Resilient Agriculture, an article for the general public on the complexities of adopting soil sequestration as a climate change mitigation strategy, and an article for activists that interprets the regenerative agriculture movement from a resilience perspective.  She has also begun work on her second book: a "how-to" book for nature-based businesses who want to reduce risks and cultivate resilience through the use of adaptive management strategies.
Praise for Resilient Agriculture
"As we start to change the weather, resilience will become a watchword for farmers, as this fine book demonstrates" Bill McKibben, Author, Activist, Scholar
"Lengnick has accomplished something significant here.  [Resilient Agriculture] is an impressively detailed, lucid and well-organized introduction to a topic that could easily fill several volumes."  Chris Walters, Acres USA
"Stories of progressive farmers highlight this comprehensive review of agricultural resilience and sustainability" John Ikerd, Professor Emeritus of Agricultural and Applied Economics, University of Missouri
"This timely and important book synthesizes vital wisdom that our society needs to weather the shocks of climate change"  Molly Anderson, William R. Kenan Jr. Professor of Food Studies, Middlebury College
"…accessible and compelling, a must read that builds hope for systemic changes for a more sustainable future." Cornelia Butler Flora, Charles F Curtiss Professor Emeritus, Iowa State University
"…combines the latest science with a search for solutions in the fields and pastures of some of the most innovative sustainable agriculturalists in the country." Neva Hassanein, Professor of Environmental Studies, University of Montana
"A must read for anyone interested in the future of farming" Frederick Kirschenmann, Farmer, Philosopher, Author
"The focus on solutions rather than problems, building on the experience of farmers and ranchers is exactly what is needed" Tim Griffin, Director, Agriculture, Food and Environment Program, Tufts University
"…offers us both the framework and the language to think about the future we all face together." David Oien, President & Founding Farmer Timeless Seeds, Inc.
Reviews of Resilient Agriculture
Coming Soon!
Other Writing
Coming Soon!