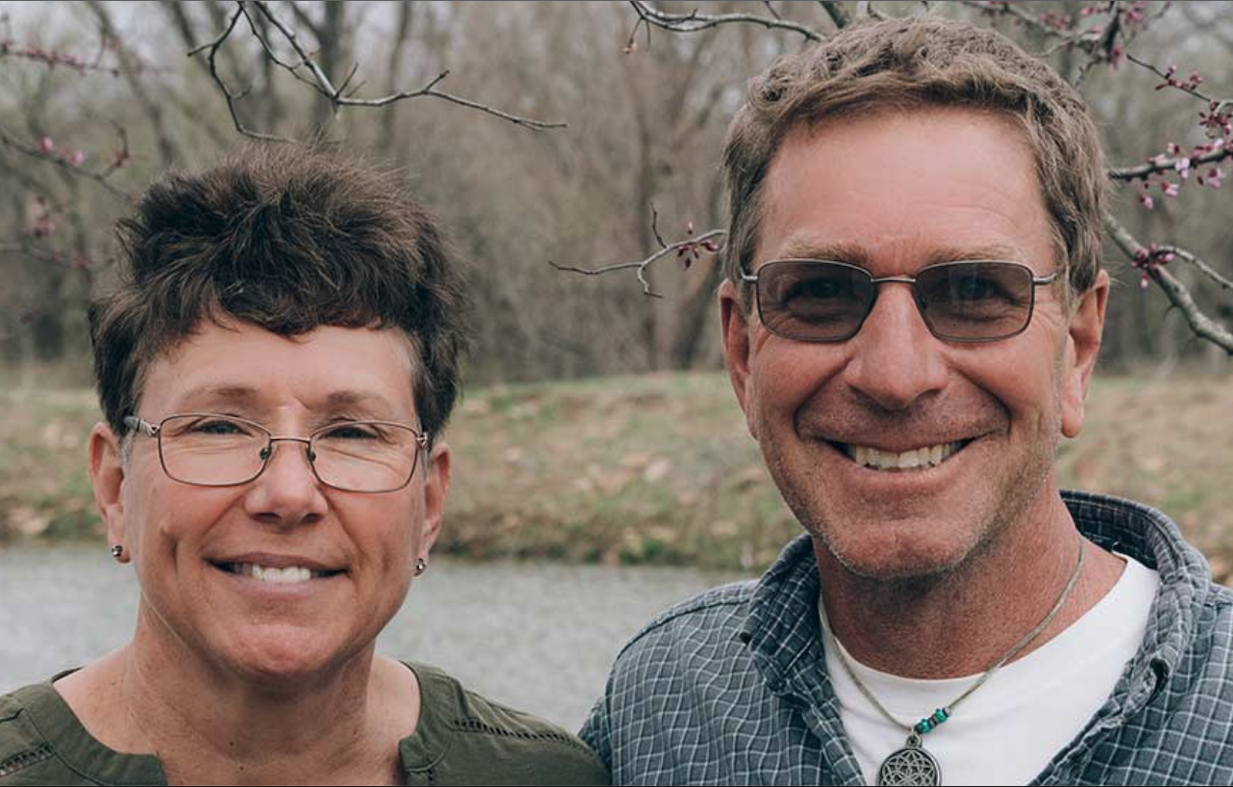 Lynette Miller and Gail Fuller, Circle 7 by Fuller Farms. Credit: Farmer's Footprint
We're still seeing the extremes. We've not experienced a huge drought since 2013. Actually, we've kind of seen the opposite. As of this June, we've gone 21 consecutive months with average or above average rainfall. And some months it wasn't just above, it was much above. In May 2019, 35 inches of rain fell on our farm — that's just one inch below the annual average, in one month.
Gail Fuller & Lynette Miller
Southern Great Plains Region | Severy, KS
Main Product: Grain and livestock
Scale: 3200 acres under management
Featured Resilience Behaviors:
Holistic management of conventional corn and soy on 3200 acres, shift to diversified rotations and cover crop cocktails w/livestock integration on 2000 acres, shift to direct markets, downsize to 700 acres, retreat from floodplain and downsize to 160 acres at new location w/agrotourism facilities.
Other Resilience Stories About This Farm
Gail Fuller is the third and last generation to own and operate Fuller Farms, located in east central Kansas near Emporia. In his 20-year effort to carry on his family's farming tradition, Gail has transformed his family's 3,200 acre conventional corn and soybean operation into a 160-acre diversified pasture-based livestock farm producing nutrient-dense whole foods for direct markets. Gail's journey from Fuller Farm to Circle 7 is both a personal and a universal story of the barriers and opportunities that many American farmers are likely to encounter on the path to a resilient food future.
Gail first learned about farming from his grandfathers, who were both farmers, and then by working side by side with his father on their 700-acre family farm. In the late 1980s, Gail took over the grain production side of Fuller Farms. Like many producers in those times, he adopted no-till to try and reduce serious soil erosion problems and improve profitability. By the mid-1990s, he had dropped livestock from his operation and expanded corn and soybean production to more than 3,200 acres by leasing neighboring land.
Thinking back on the transition to no-till, Gail recalls following best management practices of the time which involved simplifying the farming system quite a bit. "During the '80s, we had a four-way rotation — corn, soybeans, wheat and milo —and we raised cattle. Everything except the corn and soybeans got kicked out with the big rush to no-till in the '90s. When no-till first really got popular, cows and no-till weren't allowed. It was thought at the time that cattle were too destructive to soils and the damage they caused by trampling farm ground couldn't be fixed without tillage, so the cows got kicked off."