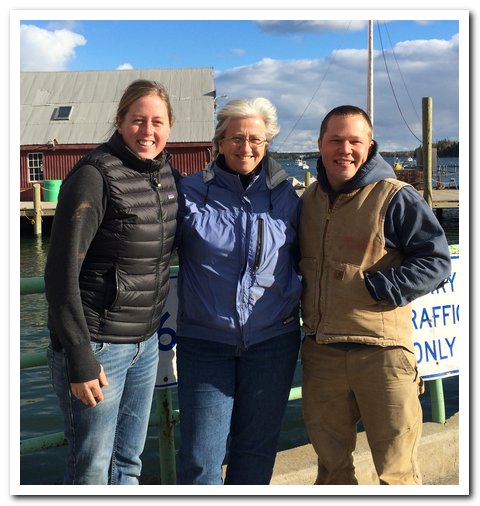 I had a wonderful visit to Maine last week to talk about Resilient Agriculture at the University of Maine at Orono and at Unity College in Unity.  Quite unexpected was a whirlwind tour of North Haven and Vinalhaven islands hosted by Jacqueline Curtis and James Blair – graduates of my sustainable agriculture program at Warren Wilson College and  two of the many young farmers driving the current resurgence of local food production in Maine.
Jacqueline and James have been involved in the restoration of Turner Farm for the last 7 years or so – clearing trees to establish pasture and cultivated fields, building greenhouses and a creamery, and establishing vegetable, beef, dairy, and cheese enterprises on the farm.
Island farming and food systems offer a unique challenges and opportunities for sustainable producers.  The cost of importing materials and exporting products encourages farm and food system designs that are tightly coupled to the island's natural resources – land, soils, water and people – and that foster local interdependence.  During my time on the island, I saw many examples of the integration of local resources into food and farming systems.
Concerned about losing additional forested land on Turner Farm, Jacqueline is organizing a cooperative network of land owners with underutilized pastures who are willing to support forage production and rotational grazing on their land. This strategy produces a number of resilience benefits to Turner Farm and the island community that it serves.  Jacqueline gets the additional pasture she needs to meet the growing demand for pasture-raised meats on the island, sustainable management of pasture lands on the island will enhance soil and water quality on the island, and the cooperative approach engages many land owners in food production and builds social capital.
Island farmers like Jacqueline and James are innovating sustainable farm and food system solutions that help put us on the path to a resilient food future.