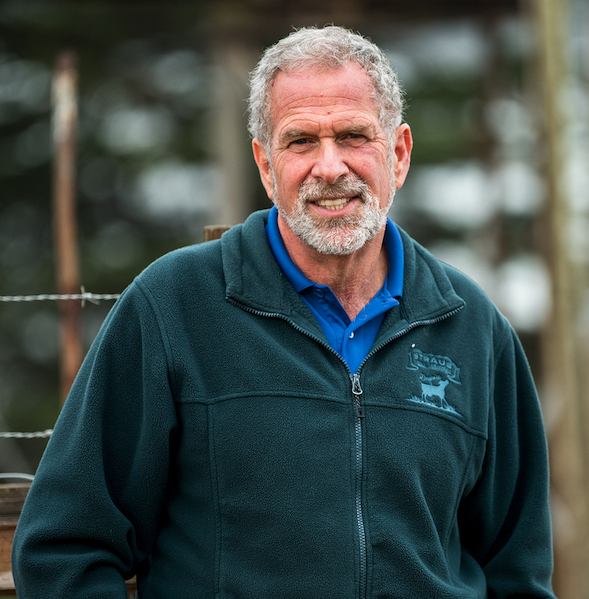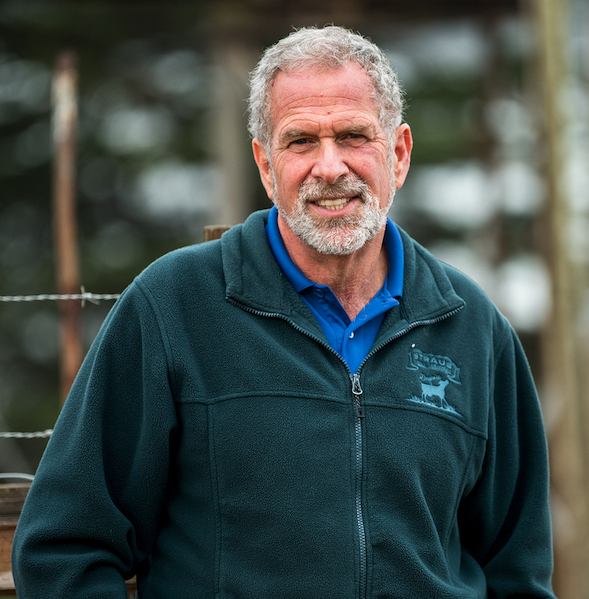 Albert Straus, Straus Family Creamery. Credit: Straus Family Creamery
In 2020 and 2021, we have not had any significant rain at all. It's been the driest year on record. It's never happened before that we haven't had any rain, and it looks like we're going to continue to have extreme shortages into the future.
Southwest Region | Petaluma, CA
Scale: 500 acres under management
Featured Resilience Behaviors:
Shift to intensive grazing, add processing/retail marketing, growers' network, carbon farming.
Albert Straus returned to his family's dairy farm in the late 1970s during a time of dramatic change in the dairy industry. Small family dairies were under increasing pressure to either get big or get out of the business. Returning home after earning a Bachelor's degree in Dairy Science, Albert thought he could see a third option, one that put new best agricultural practices to work saving the family farm. In the early 1980s Albert and his father, Bill, implemented no-till seeding of crops to prevent soil erosion and reduce fuel consumption. They were already farming without herbicides or chemical fertilizers.
Despite these innovations, falling milk prices continued to threaten the economic viability of their dairy business and Albert wondered if the growing consumer interest in organic food offered a solution. He began to imagine a new kind of market for his milk, one that reflected the true costs of production, promoted responsible land stewardship and offered a viable, principled and sustainable business model for small dairy farms. Albert realized that going organic would allow him to fully embrace his deeply held belief in land stewardship, while also addressing the challenging economic realities of family farms in an era of intense industrialization.
Inspired by these ethical and economic considerations, Albert transitioned his farm to organic production in 1993 and founded the Straus Family Creamery in 1994. "How do you create a viable farming system?" Albert asks. "That's the challenge we've tried to address with certified organic production and collaboration with the 12 family farms supplying our creamery. What I've tried to do is create a sustainable organic farming model that is good for the Earth, the soil, the animals and the people working on these farms, plus helps revitalize rural communities."